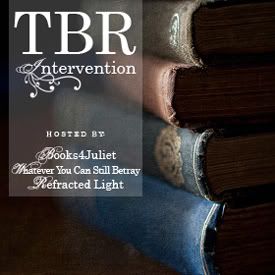 I know it has been a while since I participated--but I wanted you to tell you all that I have missed being part of the intervention (and my TBR pile has grown exponentially too). So I am not back and ready to get down to business!
But I also have a class that started last week and goes on for the next six weeks--so I won't be able to read as much as I used to in a week. But even a little bit will make progress on my TBR, right?
Books I Am Committed To Read
My friends have been talking about this series so much that I just had to join in. It has become our literary soap opera.
Summary (from Amazon):
Long ago, in a time forgotten, a preternatural event threw the seasons out of balance. In a land where summers can last decades and winters a lifetime, trouble is brewing. The cold is returning, and in the frozen wastes to the north of Winterfell, sinister and supernatural forces are massing beyond the kingdom's protective Wall. At the center of the conflict lie the Starks of Winterfell, a family as harsh and unyielding as the land they were born to. Sweeping from a land of brutal cold to a distant summertime kingdom of epicurean plenty, here is a tale of lords and ladies, soldiers and sorcerers, assassins and bastards, who come together in a time of grim omens.
Here an enigmatic band of warriors bear swords of no human metal; a tribe of fierce wildlings carry men off into madness; a cruel young dragon prince barters his sister to win back his throne; and a determined woman undertakes the most treacherous of journeys. Amid plots and counterplots, tragedy and betrayal, victory and terror, the fate of the Starks, their allies, and their enemies hangs perilously in the balance, as each endeavors to win that deadliest of conflicts: the game of thrones.
My friend read this book and said that it may help me as I am learning to move forward (if you do not know what I am referring to please read
taking a break
). I also saw that this book is full of shorter stories which means I do not need to focus on reading the whole thing straight through but can pick through the stories.
Summary (from Amazon):
This Is Not the Life I Ordered is for anyone who has ever felt overworked, overwhelmed, or just plain unlucky (and, who hasn't?!). Through this collection of stories, wisdom, and practical advice, readers will meet four ordinary women who have faced extraordinary life challenges. Together, they have a history of six marriages, ten children, four stepchildren, six dogs, two miscarriages, two cats, a failed adoption, and foster parenthood. Two have lived through the death of their spouses and one was shot and left for dead on a tarmac in Guyana -- which is documented in "Jonestown" airing on PBS' American Experience. T
his book started simply with four friends getting together for "kitchen-table coaching sessions" to talk about their lives. Week by week and story by story, they realized their great advice to each other could help other women struggling with life's myriad issues of work, family, and love, as well as the big questions of life and death. For over a decade, the power and strength of their collective friendship enabled these women not only to survive but to thrive. They invite readers to join them to learn how they, too, can turn "misfortunate" events into joy-filled opportunities. Readers will want to share this book with every woman in their lives!
I got out of the habit of listening to my audiobooks and I have missed them, so I am going to make it a goal to get back into the habit again. And what is better than Jim Dale to get me back?
Summary (from Amazon):
The circus arrives without warning. No announcements precede it. It is simply there, when yesterday it was not. Within the black-and-white striped canvas tents is an utterly unique experience full of breathtaking amazements. It is called Le Cirque des Rêves, and it is only open at night.
But behind the scenes, a fierce competition is underway—a duel between two young magicians, Celia and Marco, who have been trained since childhood expressly for this purpose by their mercurial instructors. Unbeknownst to them, this is a game in which only one can be left standing, and the circus is but the stage for a remarkable battle of imagination and will. Despite themselves, however, Celia and Marco tumble headfirst into love—a deep, magical love that makes the lights flicker and the room grow warm whenever they so much as brush hands.
True love or not, the game must play out, and the fates of everyone involved, from the cast of extraordinary circus per­formers to the patrons, hang in the balance, suspended as precariously as the daring acrobats overhead.
Written in rich, seductive prose, this spell-casting novel is a feast for the senses and the heart.
Now I cannot wait to see what you are reading this week!