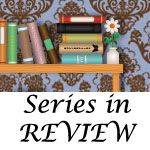 Series are a tricky thing. I have series that I love as a whole, but an individual book within the series did not impress me. So I am not always sure that reviewing the individual books is fair to the author's vision. However, I do not want to postpone all of my reviews of the books within a series until the end. With those thoughts in mind I decided to start Series In Review. In these postings, I will be looking at more than one book in the series or if possible the entire series at one time.
_____________________________________________________
**This review may contain spoilers for some of the books in the series**
Genre:
Urban Fantasy, Paranormal
Books Reviewed from this Series:
Kitty and The Midnight Hour
and
Kitty Goes to Washington
Author Info:
Goodreads
|
Website
Rating:
4 stars
Borrowed these books from my friend.
In A Nutshell:
My friend has been raving about this series--and after reading the first two books I am totally on her side. Carrie Vaughn has created a wonderful world full of interesting characters who keep a vice grip on my attention.
Review:
Quite by accident Kitty Norville started a late night radio show that gives voice to the creatures that go bump in the night. Vampires, werewolves, and people who want to be vampires or werewolves call in to tell their story. Kitty can handle their calls with humor, wit, and honesty--an honesty built on experience. Kitty is a werewolf who has been trying to live a "normal" life and build her career while dealing with the aspects of being a werewolf.
In Kitty, Carrie Vaughn has created a character who is an interesting mixture of vulnerability and strength. She is new to being a werewolf and still learning how to do it, particularly the pack part of it. She is intelligent. The more she learns about herself, about being a werewolf, about the world she is now a part of--the stronger she becomes as a person and the more interesting she becomes as a character. She has an honest, open style that allows her to tell it like it is--on her show, when she is talking about the urges that the Wolf awakes in her, even when she talks about the process of shifting into a werewolf. After reading these two books, I will never look at my dog's actions the same way again.
In these books, Carrie Vaughn kept me on the edge of my seat until the last second. Each book had a scene where my jaw literally dropped (and where I honestly wanted to text my friend and say WTF!). Carrie Vaughn does not pull her punches. She will take away characters that we love, she will force Kitty into uncomfortable situations, she will keep us up until the wee hours of the morning turning the pages.
But it is late now--I am going to dial in my radio. Maybe I will find The Midnight Hour broadcast to tune into?
Recommendations:
After reading these two books, I cannot wait to start the next book in the series:
I also did not realize when I started this series, that this is the same Carrie Vaughn who wrote another book I have been wanting to read for a while: