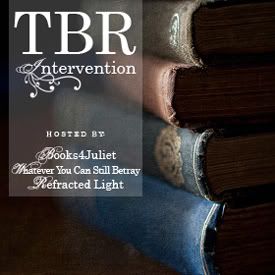 Overall, I am very happy with the results of my TBR Intervention this week--I am however not as satisfied with my follow through with reviews. I am so far behind on getting them written and getting them posted. I have a major paper due tonight--so I am hoping to get caught up on blogging tomorrow!
I finished
The Fellowship of the Ring
this week! I am so proud of myself! I loved it--and I cannot wait to review it for you all!
Lola and the Boy Next Door
was awesome! I think I may even like it more than
Anna and the French Kiss
but in many ways I do not even need to pick because Anna and St. Clair were back! And playing important roles in this one. I cannot wait for
Stephanie Perkins
' next book! This review is also coming.
Okay now for my one failure. I did not even get to
Supernaturally
because I realized I had a library book coming due that I had to finish. But I will be starting it this week--I promise!
I have not finished this one--but I started it and since finishing
The Fellowship of the Ring
was such a monumental accomplishment for me--I think at least getting this one started this week is a major accomplishment. I love it so far!! If you have not read this one--you should!!
First, I am committing myself to finishing the two books that I did not finish last week. But I am adding the book I am still working on from last week (the library book that has to be finished before the due date!):
Summary (from inside flap):
It's 1996, and Josh and Emma have been neighbors their whole lives. They've been best friends almost as long--up until last November, when everything changed. Things have been awkward ever since, but when Josh's family gets an America Online CD-ROM in the mail, his mom makes him bring it over so Emma can install it on her new computer. When they sign on, they're automatically logged onto Facebook...but Facebook hasn't been invented yet. Josh and Emma are looking at their profile fifteen years in the future. Their spouses, careers, homes, and status updated--it's all there. But it's not what they expected. And every time they refresh their pages, their future change. As they grapple with the ups and downs of what their lives hold, they're forced to confront what they're doing right--and wrong--in the present.
I wanted to read this book because I loved Jay Asher's first book Th1rteen R3asons Why. So far, this book has not disappointed me--and I think I may like it even better!
So what do you plan to read this week?