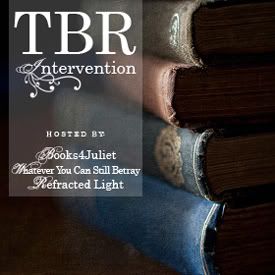 I am calling last week a "so-so" success. I got a lot of reading done (success), but I did not get a lot of the TBR Intervention reading done (fail):
I finished it! I loved it!
My review
is up.
I am almost done--close enough that I think I will be done by the end of the day. I love it!! I have been recommending this book to everyone I know--particularly those with kids 8-13 years old. Review coming soon.
This is my epic fail--because I have not even started this book. And with my giveaway--I need to read the books before I give them away! So this one is going back on my TBR pile for a while.
My new supervisor has been recommending the Kitty Norville series by Carrie Vaughn. I read the first one this week--and now I have to read the next one this week (absolutely have to know what happens next!):
Summary (from back cover):
Werewolves Do It Better
The country's only celebrity werewolf, late-night radio host Kitty Norville prefers to be heard, not seen. But when she's invite to testify at a Senate hearing on behalf of supernaturals, her face gets plastered on national TV. Kitty's been in hot water before, but jumping into the D.C. underworld brings a new set of problems. And a new set of friends and enemies, including the vampire mistress of the the city; an uber-hot Brazilian were-jaguar; and a paranoid, Bible-thumping senator who wants to expose Kitty as a monster. Kitty quickly learns that in this city of dirty politicians and backstabbing pundits, everyone's itching for a fight.
Adam Rex is coming to my favorite local bookstore (changing hands) so I am going to start my giveaway reading with:
Summary (from back cover):
Doug Lee is undead quite by accident--attacked by a desperate vampire, he finds himself cursed with being fat and fifteen forever. When he has no luck finding some goth chick with a vampire fetish, he resorts to sucking the blood of cows under cover of the night. But it's just not the same.
Then he meets the new Indian exchange student and falls for her--hard. Yeah, he wants to bite her, but also wants to prove himself to her. But like the laws of life, love, and high school, the laws of vampire existence are complicated--it's not as easy as study
Dracula
. Especially when the start of
Vampire Hunters
is hot on your trail in an attempt to boost ratings...
Searing, hilarious, and always unexpected,
Fat Vampire
is a satirical tour de force from one of the most original writers of fiction today.
I also had a few books I have been waiting for at the library--and of course they have all come at once. So I have to get them done before they are due. For this week I am focusing on finishing:
Summary (from inside flap):
Crank. Glass. Ice. Crystal. Whatever you call it, it's all the same; a monster. And once it's got hold of you, this monster will never let you go.
Kristina thinks she can control it. Now with a baby to care for, she's determined to be the one deciding when and how much, the one calling the shots. But the monster is too strong, and before she knows it, Kristina is back in its grips. She needs the monster to keep going, to face the pressures of day-to-day life. She needs it to feel alive.
Once again the monster takes over Kristina's life and she will do anything for it, including giving up the one person who gives her the unconditional love she craves--her baby.
The sequel to
Crank
, this is the continuing story of Kristina and her descent back to hell. Told in verse, it's a harrowing and disturbing look at addiction and the damage that it inflicts.
I read Crank and it affected me--it's hard for me to say that I loved it because it is not a story to love. But it will always stick with me.
And of course I have to be listening to a book. This week I think I am going to focus on listening to:
Summary (from Amazon):
"Ruby, where is your mother?"
Ruby knows that the game is up. For the past few months, she's been on her own in the yellow house, managing somehow, knowing that her mother will probably never return.
That's how she comes to live with Cora, the sister she hasn't seen in ten years, and Cora's husband Jamie, whose down-to-earth demeanor makes it hard for Ruby to believe he founded the most popular networking Web site around. A luxurious house, fancy private school, a new wardrobe, the promise of college and a future—it's a dream come true. So why is Ruby such a reluctant Cinderella, wary and defensive? And why is Nate, the genial boy next door with some secrets of his own, unable to accept the help that Ruby is just learning to give?
It feels like I have been away from Sarah Dessen too long!
What books do you plan to read this week? Have you read the books I am planning? What did you think?