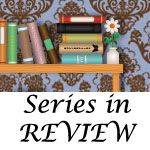 Series are a tricky thing. I have series that I love as a whole, but an individual book within the series did not impress me. So I am not always sure that reviewing the individual books is fair to the author's vision. However, I do not want to postpone all of my reviews of the books within a series until the end. With those thoughts in mind I decided to start Series In Review. In these postings, I will be looking at more than one book in the series or if possible the entire series at one time.
_____________________________________________________
**This review may contain spoilers for some of the books in the series**
Genre:
Young Adult, Fantasy, City Life, New Experiences, Urban Fantasy
Books Released in Series:
City of Bones
,
City of Ashes
and
City of Glass
Next Book:
City of Fallen Angels
Author Info:
Website
|
Goodreads
Rating:
3 stars
Borrowed books from the library.
In A Nutshell:
I had heard so many good things about this series that I was almost afraid--afraid it would not live up to all of the hype. But it delivered. This series has it all: adventure, action, romance, magic, family, everything. I laughed, I cried, I longed, and I loved. I cannot say enough how much I loved this series.
Review:
Clary goes to a club with her friend, Simon, and enters a world beyond her imagination. She sees people and things that others do not see. She has abilities that others could not even imagine. She is part of a world that will change the course of hers and Simon's life forever.
Cassandra Clare writes her characters in such a way that there is always the ability to question assumptions. Is this character on the side of good or evil? What determines which side is good and which side is evil? What determines what character is on which side? Throughout the series, I found myself always questioning. The moment I thought I knew what was going to happen, what side a character was on, or what connection was important, Cassandra Clare surprised me. But the thing that amazed me the most is that she surprised me while still keeping true to her characters. The intrigue was not caused by the characters changing as much as by our knowledge of their motives, their reasoning, their histories changing so that we could see them more completely. Even the characters that appeared to be minor in the beginning, ended up being intriguing and having an important effect on the final outcome.
But I did have a couple of things that I struggled with in these series. First, I noticed that each book is slow to get started. I started
City of Bones
a couple of times before I was able to really get into the story. Once I did get into the story I was hooked. Then the same thing happened when I moved on to the next two books. In some ways it was a little bit of a let down after finishing the previous book on a high. But I stuck with it knowing that the chances were good that the book would get much better as I continued. And I am glad I did.
Second, I struggled with Jace and Clary's relationship. He was sarcastic to the point of rude and mean to Clary for long time. I understand that it was hard for him to admit that he liked her, and I understand that he had not had very good role models growing up to show him how to handle emotions, how to treat people, or how to react to situations. I understand that he did go out of his way to help Clary when she needed is (such as when she needed to find Simon in the Vampire hotel). But the relationship was on an emotional roller coaster. Clary spends time in each book lamenting when Jace has hurt her feelings or elated when Jace seems to be interested in her. Is that a relationship to aspire to? Is that the kind of relationship destined to last?
Recommendations:
I enjoyed the series. I am glad I read it, but I have hesitated on reading the new book,
City of Fallen Angels
. The copies I had of the book referred to this series as a trilogy. Then after I finished
City of Glass
I felt like the story felt complete. So I have doubts that I will read the fourth book, but I would like to read her new series, The Infernal Devices.