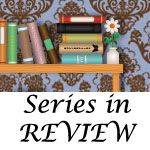 Series are a tricky thing. I have series that I love as a whole, but an individual book within the series did not impress me. So I am not always sure that reviewing the individual books is fair to the author's vision. However, I do not want to postpone all of my reviews of the books within a series until the end. With those thoughts in mind I decided to start Series In Review. In these postings, I will be looking at more than one book in the series or if possible the entire series at one time.
_____________________________________________________
**This review may contain spoilers for some of the books in the series**
Genre:
Young Adult, Fantasy,
Books Released in Series:
Poison Study
,
Magic Study
, &
Fire Study
Supplemental Short Stories:
Website
Author Info:
Website
|
Goodreads
Rating:
4 Stars
Books picked up in Paperbackswap game
s.
In A Nutshell:
This series enchanted me. The world created by Maria V. Snyder inspired me to believe in magic, in love, and in destiny. The characters were interesting. I was left guessing who was good and who was not until the end of each novel. The stories were enthralling. I could not put these books down once I started them. I have loaned my books to a number of friends, and each of them has been as impressed as I with this series.
Review:
Yelena is given a choice. She committed a murder which means she faces an execution as required by the laws of Ixia. Or she can have a reprieve and serve as the food taster for the Commander to ensure that he is not poisoned. This reprieve comes with its own strings. In particular, she is given a poison that will kill her unless she takes the antidote daily.
This story opens the series, but the story continues to chronicle Yelena's adventures to learn and understand her magical gifts. For that training, she must leave everything she knows and loves and travel to the land of her birth. Yelena's training however will be very different from the norm. Her talents are unique within the magical community. For some people, that uniqueness inspires fear, anger, and hatred. But Yelena must use her unique gifts to save everyone from a crazy plan that would destroy everything that the citizens of Ixia and Sitia hold dear.
I found myself drawn to the characters of Yelena and Valek from the very beginning. I was rooting for them, hoping there would be a way for them to be together. The time they spent together was a highlight for me throughout the series. Whenever they had to separate, I read with anticipation to see them together again.
Maria V. Snyder created an interesting world where magic is honored in one country but feared and despised in another country. Yelena is stuck in the middle. Her heart, her memories, and in many ways her life is in Ixia but her magic is outlawed there. Hher family and her magical training are in Sitia; but her love is not welcome there. She has to figure out for herself where her place really is; where will she be happiest?
Poison Study is by far my favorite book in the series. The chemistry between Yelena and Valek is endearing. I agree with some of the reviews that I have read that claimed that Fire Study is the least enchanting of the series. There was one point in the Fire Study where I literally said aloud "you have to be kidding me!" I was so frustrated with the number of road blocks being put in their path—they could not catch a break at all. In the end, however, I was glad I read Fire Study. I wanted to see how Yelena and Valek's story ended, but after so many road blocks I was very glad to see it finally come to the end.
Recommendations:
I recently won this book in a giveaway on Jen's site--and I could not wait to read it!