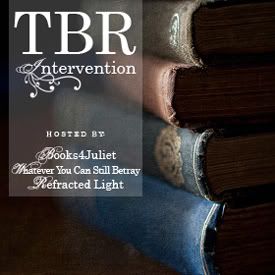 I can say with absolute confidence that I succeeded in the TBR Intervention this week! I am also super excited about my giveaway from the previous weeks TBR Intervention!
I finished
Monster
by Walter Dean Myers this week. I am so impressed with this book--and I can definitely understand why he was named
The National Ambassador for Young People's Literature
. My review is coming soon!
I finished
Looking for Alaska
by John Green. I am pretty sure that I have a new (to-me) author to add to my list of favorite authors. This book surprised me in so many ways. My review is coming soon!
I am still working on this one, but I am feeling much more drawn into the book now. I struggled with the beginning of the book--but now that I am in the last hundred tracks I cannot put it down. I can see why so many people love it. As soon as I finish the book, I want to re-watch
the movie
because I really feel like I will gain so much more insight into the movie after having finished the book!
Summary (from inside flap):
Budding designer Lola Nolan doesn't believe in fashion...she believes in costumes. The more expressive the outfit--more sparkly, more fun, more wild--the better. But even though Lola's style is outrageous, she's a devoted daughter and friend with some big plans for the future. And everything is pretty perfect (right down to her hot rocker boyfriend) until the dreaded Bell twins, Calliope and Cricket, return to the neighborhood.
When Cricket--a gifted inventor--steps out from his twin sister's shadow and back into Lola's life, she must finally reconcile a lifetime of feelings for the boy next door.
I loved Anna and the French Kiss
and I am so sorry that I have waited so long to read this one! And then I found out that Anna and St. Clair are back! That's enough to make me love this one!
Despite my pledge to shrink my TBR pile--I attended YAllapalooza hosted by one of my favorite independent bookstores, Changing Hands! Of course I had to buy books! So I must get them read and off my pile!
Summary (from inside flap):
Evie finally has the normal life she's always longed for. But she's shocked to discover that being ordinary can be...kind of boring. Just when Evie starts to long for her days at the International Paranormal Containment Agency, she's given a chance to work for them again. Desperate for a break from all the normalcy, she agrees.
But as one disastorous mission leads to another, Evie starts to wonder if she made the right choice. And when Evie's faerie ex-boyfriend Reth appears with devastating revelations about her past, she discovers there's a battle brewing between the faerie courts that could throw the whole supernatural world into chaos. The prize in question? Evie herself.
So much for normal.
I loved the first book in this series. I have been putting off the second in the series--and then I saw the author would be at YAllapalooza and I could not resist!
I am determined to finish my audiobook this week--and start my next audiobook this week!
Summary (from Amazon):
The New York Times bestselling author of the Wake trilogy makes her middle-grade dystopian fantasy debut!
When Alex finds out he is Unwanted, he expects to die. That is the way of the people of Quill: Each year all the thirteen-year-olds are labeled as Wanted, Necessary, or Unwanted. Wanteds get more schooling and train to join the Quillitary. Necessaries keep the farms running. Unwanteds are set for elimination.
It's hard for Alex to leave behind his twin, Aaron, a Wanted, but he makes peace with his fate—until he discovers that instead of a "death farm," what awaits him is a magical place called ArtimÉ. There, Alex and his fellow Unwanteds are encouraged to cultivate their creative abilities and use them magically. Everything Alex has ever known changes before his eyes, and it's a wondrous transformation.
But it's a rare, unique occurrence for twins to be divided between Wanted and Unwanted, and as Alex and Aaron's bond stretches across their separation, a threat arises for the survival of ArtimÉ that will pit brother against brother in an ultimate, magical battle.
What book are you most excited to read this week?