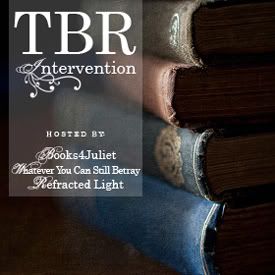 I am declaring this week's TBR a success--at least a partial success.
I finished Crime Fiction for Beginners--and loved it. You can find my
review
today and I will have a guest post by the author tomorrow!
I finished Under the Never Sky--it may be my favorite book of 2012. My review will be out on Wednesday, January 25, 2012 and includes a giveaway of my signed hardback copy. How's that for shrinking my pile?
I am almost to the halfway point with this one--and I am satisfied with that. I will however be listening to a shorter book next time. I think I need a little of a break before I tackle
The Two Towers
.
I am about halfway through this book--so far I love it and I cannot wait to read more of John Green's books. I am so glad my buddy,
Jen
, shared this one with me.
I will finish Looking for Alaska
and continue working on The Fellowship of the Ring
, but my new book addition will be:
After I read
this article
, I decided I had to read a book by the new National Ambassador for Young People's Literature, Walter Dean Myers.
Summary (from inside flap of book cover):
Sometimes I feel like I have walked into the middle of a movie. Maybe I can make my own movie. The film will be the story of my life. No, not my life, but of this experience. I'll call it what the lady who is the prosecutor called me.
Monster.
FADE IN: INTERIOR COURT. A guard sits at a desk behind STEVE. KATHY O'BRIEN, STEVE's lawyer, is all business as she talks to STEVE.
O'BRIEN: Let me make sure you understand what's going on. Both you and this King character are on trial for felony murder. Felony murder is as serious as it gets...When you're in court, you sit there and pay attention. You let the jury know that you think the case is as serious as they do...
STEVE: You think we're going to win?
O'BRIEN (seriously): It probably depends on what you mean by "win."
My friend and I are planning to read this book together and then talk about it--do a book discussion as a blog post. So look for that to come out soon.
What do you plan to read this week?