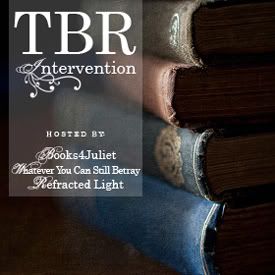 I finished both of these books from my goals last week:
My review
for The Truth About Forever is already up and the review for Touch of Power will be up next week!
I am halfway done with Crank by Ellen Hopkins. I may have it done by the end of the day (which would technically mean I am 100% successful on this week's intervention). But even if it takes me until tomorrow I am happy with the results of this week's intervention.
I had this book listed on a previous TRB intervention but due to some technical difficulties I was not able to finish it. This week I will finish it!
Summary:
The murder investigation Detective Inspector Harriet Ware is heading takes her into an unsuspected world where publishers wearily fend off a spate of unwanted manuscripts. Her suspects include would-be authors who live as much in the plots they are weaving as in the mundane world they actually inhabit. 'Crime Fiction for Beginners' is five novels in one with an unexpected twist at the end.
My buddy, Jen, sent me the following book--which I am so excited about because I have heard so many great things about John Green.
Summary:
Before. Miles "Pudge" Halter is done with his safe life at home. His whole existence has been one big nonevent, and his obsession with famous last words has only made him crave the "Great Perhaps" (Francois Rabelais, poet) even more. HE heads off to the sometimes crazy, possibly unstable, and anything-but-boring world of Culver Creek Boarding School, and his life becomes the opposite of safe. Because down the hall is Alaska Young. The gorgeous, clever, funny, sexy, self-destructive, screwed-up, and utterly fascinating Alaska Young, who is an event unto herself. She pulls Pudge into her world, launches him into the Great Perhaps, and steals his heart.
After. Nothing is ever the same.
And of course I have to work at least one audiobook--but the one I have picked this time may take me more than a week but I am so excited because I have been wanting to read more of the classics and this series in particular.
Summary (copied from Goodreads):
Frodo Baggins knew the Ringwraiths were searching for him - and the Ring of Power he bore that would enable Sauron to destroy all that was good in Middle-earth. Now it was up to Frodo and his faithful servant Sam to carry the Ring to where it could be detroyed - in the very center of Sauron's dark kingdom.
So what are you planning to read this week?