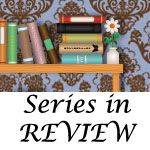 Series are a tricky thing. I have series that I love as a whole, but an individual book within the series did not impress me. So I am not always sure that reviewing the individual books is fair to the author's vision. However, I do not want to postpone all of my reviews of the books within a series until the end. With those thoughts in mind I decided to start Series In Review. In these postings, I will be looking at more than one book in the series or if possible the entire series at one time.
_____________________________________________________
**This review may contain spoilers for some of the books in the series**
Genre:
Young Adult, Paranormal, Vampires
Books Released in Series:
Blue Bloods
,
Masquerade
,
Revelations
,
The Van Alen Legacy
, and
Misguided Angel
Supplemental books:
Blue Bloods: Keys to the Repository
and
Bloody Valentine
Author Info:
Website
Series Info:
Website
Rating:
3 star
Books picked up in Paperbackswap game
s.
In A Nutshell:
Overall, this has been a series that I felt more drawn into as it progressed. After reading
Blue Bloods
, I was not sure I wanted to continue, but I did based on the recommendation of friends. I am so glad I did. As the series progressed, I found myself more and more drawn into the world that Melissa De La Cruz created. I found the characters complicated and interesting. The line between good and evil is being tested, explored and even challenged.
Now, I am waiting with the highest level of anticipation for the release of the next book in the series because I cannot wait to see what happens.
Review:
At the age of fifteen, Schuyler Van Alen learns that she is part of a legacy with a long history that she must unravel in order to save herself and her friends. Throughout the series I find myself feeling sympathy for Schuyler. She consistently seems to be the person who knows the least about the vampire world and no one who appears willing to sit down and give her the information. This lack of a willing mentor seems unfair especially since her unique creation means she cannot access the past life memories that the other vampires her age can. However, following the person with the least amount of knowledge of what is happening and why can be frustrating. Then Schuyler's grandfather arrives. He is willing to help her learn, but Schuyler decides to focus on things other then her lessons. I understand that she is a teenager and realistically does not want to study all the time, but within the confines of the story we, as readers, rely on her to be able to tell us what is going on. But this balance between sympathy and frustration exemplifies the complicated nature of Melissa De La Cruz's characters. We as readers are constantly being challenged to determine who is good, who is not good, and why are the characters the way they are. Is their nature (whether good or bad) fixed and unchanging or is it a choice they make?
In later books, I think Melissa De La Cruz address the readers need for more information than Schuyler can provide beautifully by bringing in other narrators. These other narrators allow Melissa to create a more complex and interesting story. We as reader also get to see more dimensions of the characters. I think Mimi Force is probably the character that best benefits from being able to tell her story in her own voice. From Schuyler's perspective, Mimi has one dimension. She is a B****. Schuyler is not necessarily wrong. Mimi does not like and feels threatened by Schuyler, so Mimi does not treat Schuyler very well. But when Mimi gets to tell her own story in her own voice, the reader starts to see that there is more to Mimi than that. The reader can see Mimi's frustration at watching her bondmate repeatedly pine after Gabrielle (Schuyler's mother) and now Schuyler while Mimi has stayed dedicated to their bond. This insight may not justify Mimi's behavior, but it makes her a more sympathetic and interesting character.
The influence and importance of the vampires' past lives is a recurring theme throughout the series. Each character had different names in their previous lives, which means that most characters have multiple names they are known by. Melissa De La Cruz utilizes flashbacks to tell some of the important stories from the past, however which character's story she is telling is not always clear until the end of the book. This delayed reveal in order to heighten suspense can make it confusing to connect the past life character name with the modern-day character. I was hoping that
Blue Bloods: Keys to the Repository
would help to clear up some of this confusion. And the book did to a point, but there are still some flashbacks and names that I find confusing. However, I feel confident that the answers to these confusions are coming soon, and I am waiting anxiously to read the next book to learn more.
I think the book in the series I was most disappointed with was
Bloody Valentine
. This book contains three short stories that are supposed to shed light on specific aspects of the Blue Bloods story. The first story tells us how Oliver moved on or was cured (for lack of a better word) of his bond to Schuyler that was formed through the Sacred Kiss. I appreciated seeing the end to that because I want to see Oliver move on, be able to be happy and hopefully find love. I like him as a character. But the method to cure him was provided by a witch, a mythical creature not mentioned in the Blue Blood series to this point. Is that really what every human familiar should do after their vampire has left them?
The second story was the most disappointing for me. It was the story of how Allegra (Schuyler's mother) met and fell in love with Schuyler's father. What disappointed me was the abrupt ending. We as readers did not learn that much. I ended up with more questions than answers. I wanted to know how they ended up together and what happened to Schuyler's father and mother. What events lead to her ending up in the coma. Now I concede it is possible that those answers are coming in the series, but this story felt unnecessary since it did not provide answers to very many (if any) questions.
The third story tells the story of Jack and Schuyler's bonding ceremony. In many ways this story did not make sense to me. In the story, Schuyler is forced to give Jack a ring that will bind his powers as long as she loves him. They manage to break the ring's power but then immediately fall back in love with each other? That did not work for me. If she fell out of love with him enough to break the rings power, what does that say about their love?
Recommendations:
There are a lot of books coming out that are connected to this series. I am not sure I will jump into all or even any of the spin-off series. However, the book I am most excited to read when it comes out is the next in this series (scheduled to be released in September 2011):
Also Robert Vendittil is adapting the Blue Blood series into graphic novel form. The first book is expected out in February 2012:
Here
(bottom of the page)
One of the spin-off series focuses on the witch that helps Oliver in the story from
Bloody Valentine
:
A second spin-off series is mentioned on Melissa De La Cruz's
website
featuring Bliss Llewellyn called Wolf Pact is scheduled for release in September 2012.