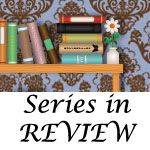 Series are a tricky thing. I have series that I love as a whole, but an individual book within the series did not impress me. So I am not always sure that reviewing the individual books is fair to the author's vision. However, I do not want to postpone all of my reviews of the books within a series until the end. With those thoughts in mind I decided to start Series In Review. In these postings, I will be looking at more than one book in the series or if possible the entire series at one time.
_____________________________________________________
**This review may contain spoilers for some of the books in the series**
Genre:
Young Adult, Contemporary Fiction, Realistic Fiction, Friendship, Family Life, Romance
Books Released in Series:
The Summer I Turned Pretty
,
It's Not Summer Without You
, and
We'll Always Have Summer
Author Info:
Website
|
Goodreads
Rating:
2 Stars
Books purchased or borrowed from friends
.
In A Nutshell:
After reading the first two books, I was glad I read this one and saw how the story came to an end, but I would not recommend this series to someone who has not already started it. I struggled with the love triangle involving two brothers for a good portion of the series. While I do believe Jenny Han ended this series in the best way possible given everything in this storyline, I would not describe the end as satisfying.
Review:
I started this series because I was intrigued with the memory of the summer I turned pretty—the summer when boys started to see me as a cute girl rather than one of the boys. However, there were also other small aspects of this series that I had trouble with even in that first book. First, I do not think a teen girl would continue using the nickname Belly, particularly once she started high school. It particularly did not ring true for me that she would keep going by Belly after the boys she had a love interest in called her nicknames, such as Belly Button.
Second, I have struggled with the love triangle involving brothers since the end of the first book. I admit that I was so intrigued that I felt compelled to continue reading until the end of the series to see if this story could end in a satisfying way. I say compelled in the same sense that people are compelled to rubber neck on the freeway when they see an accident. But can a love triangle that involves two brothers really have a happy ending? Can they still have a close brother relationship if they both asked the same girl to marry them? I can only imagine how family dinners will be in the future, but the word "awkward" comes to mind. I commend Jenny Han because I can see she strives to accomplish a happy ending, and I could not see a better ending than the one that she wrote. However, I would not say I necessarily felt satisfied at the end.
Third, one brother repeatedly pushes Belly away and leaves her alone when she needs him the most. His actions towards her ruined many of her memories, including her memories of going to prom. His actions towards her affected how she saw herself, how much she valued herself; she consistently wanted to please him. The other brother hooks up with someone else while he and Belly were "on a break" and then comes back to her without telling her anything. If he had told Belly about it, I would not have been so frustrated with him. I probably would not have even considered it cheating since they were "on a break," but he only admits it happened after Belly overhears the girl talking about it at a party.
So I found myself asking repeatedly throughout the series, "why does she love them?" The attachment comes off as more based their shared history and in some instances her affection for Susannah. Is that true love? Is that really what people should be striving to find? Is that "love" going to last? I have doubts. And there were many times throughout the series that I found myself wishing Belly would see that she did not deserve to be treated this way.
Fourth, in the end there were a lot of claims that things had changed. In particular that Conrad valued Belly more and was willing to give her the love she deserved, but there was little proof offered to the reader. There were glimpses and allusions to things he had done to prove that he had changed to her. However, after spending the bulk of
We'll Always Have Summer
detailing a few months of their lives, the last couple of chapters chronicled a few years without many details.
One detail in particular that I was sorry to that the reader did not get to see Susannah's letters to the boys. Since we were able to read Susannah's letter to Belly, I really felt we should have seen Conrad's letter because Susannah's letter to Conrad was a turning point for him. It seemed to be one of the things that led Conrad to value Belly and her love more.
Recommendations:
While I may have not been gushing about this series, part of what kept me reading was that I liked Jenny Han's writing style, so I would like to try other Jenny Han books.
______________________________________________________
Don't forget there is a GIVEAWAY still open this week. You can find more information about it here.