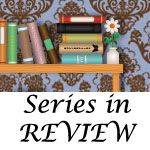 Series are a tricky thing. I have series that I love as a whole, but an individual book within the series did not impress me. So I am not always sure that reviewing the individual books is fair to the author's vision. However, I do not want to postpone all of my reviews of the books within a series until the end. With those thoughts in mind I decided to start Series In Review. In these postings, I will be looking at more than one book in the series or if possible the entire series at one time.
_____________________________________________________
**This review may contain spoilers for some of the books in the series**
Genre:
Young Adult, Fantasy, Fae
Books Released in Series:
Glimmerglass
,
Shadowspell
, and
Sirensong
Supplemental Books:
Remedial Magic
(prequel released in ebook form only)
Author Info:
Website
Rating:
3 stars
Books picked up in Paperbackswap game
s.
In A Nutshell:
Since I read
Glimmerglass
for the first time, I have been enchanted by this series. I loved the magical world that Jenna Black created. I loved the characters, the adventure, even the love stories. But the element I found completely unique to this series was Jenna Black's open and honest description of the effects an alcoholic can have on every aspect of the lives of people around him/her. I marvel that Jenna Black was able to fit this message into this series without it feeling preachy or moral-driven. It is fun and it is magical.
Review:
Sirensong seems to be the end of the series, and I have to say I will miss these characters. I found Jenna Black's world enchanting and her characters honest and memorable. However, as I looked back on the series after I finished Sirensong, it was not the magic, the faeries, Avalon, or even the love stories that stood out to me. It was Jenna Black's honest and open description of Dana's life as the child of an alcoholic, and how that affected Dana's life and decisions. I do not want to insinuate that Jenna Black wrote this series with the primary intent of presenting a message about alcoholism, but I do want to commend her on handling this issue the way she did.
Originally, I questioned Dana's continued willingness to repeatedly disregard advice of her family and friends, which usually led to her putting herself in harm's way to save them. Is the best solution to sacrifice yourself? However, as I looked at this question within the context of this story and the character of Dana, I realized for Dana the solutions in the book were the best. Dana was a product of her childhood which was filled with loneliness caused by constant moves and shame caused by hiding the secret of an alcoholic mother. It affected the choices that Dana made. It affected how she related to people. It affected how Dana valued the first set of friends she had in her life. I liked the character of Dana, so it was sometimes hard to watch her make the decisions she did; to repeatedly risk her own life and happiness to save another. But that was who Dana was and her decisions showed how devoted she was to the people in her life. At the end of Sirensong, I was glad to see that Kimber took Dana to
Alateen
meetings. I would hope that with support Dana would learn her own value so she did not feel she should allows sacrifice herself for another.
The one issue I had with the series is that the girls seemed to be very critical of themselves, while the boys were presented as near perfect. Kimber, who is an academic genius, can only focus on her mediocre magical skills. Dana, who is a wonderful singer, always feels unattractive compared to the magically attractive full-blooded Fae that surround her. However, Ethan, whose temper is part of why he ends up in the Wild Hunt, knows he is magically gifted and thinks he is almost invincible. Keane, who harbors a lot of resentment about—well everything, has declined his calling as a knight. The standard of a successful girl with high self-esteem seems to be much harder to reach than the standard for the boys.

Overall, I loved the series though. The magical spell that Jenna Black casts took me in and despite the seemingly unending danger, I wish I could visit Avalon and bring Dana some coffee.
Recommendations:
According to Jenna Black's
website
, the Faeriewalker series is currently her only YA series. I hope she writes more! But in the meantime, I am going to look for her other series: